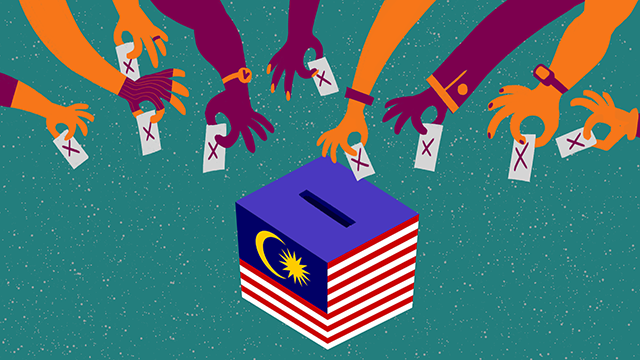 (This article also appears in today's New Straits Times)
As shown in Sabah, a general election now will cause a huge increase in Covid-19 infections with a sharp spike in deaths.
The Sabah state election was held on 26th September. The Director General of Health reported last week out of 110 deaths since the end of that month, 35 of them were classified as "brought in dead" (BID) cases – all in Sabah.
As of last week out of 1202 Covid-19 hospital beds in Sabah 63 per cent have been taken up. Of total ICU beds 85 per cent were being used, with 66 per cent take-up of Covid-19 ICU beds. Of 193 ventilators, Covid-19 and non Covid-19, a full one third were in use.
The Health Ministry has set up low-risk centres nearer to the community – to avoid more body bags coming in.
Just imagine if all this was happening across the country during and following a general election. Already of 16,060 Covid-19 available beds 40 per cent are utilized. Health facilities will be stretched.
Not only will there be a spike in Covid-19 deaths. The front-liners might also drop dead.
The numbers of infections and deaths in Sabah should be a wake-up call to all politicians, government and opposition, to work together in battling the pandemic and in getting the economy – people's livelihoods – going again.
The Agong, after consultation with the Malay rulers, did the right thing in exercise of his discretion under Article 150 of the Federal Constitution by not accepting the Prime Minister's advice to proclaim a state of national emergency. We are not in a situation where parliamentary government of the country has become impossible, whatever its difficulties, or the Covid-19 pandemic is totally out of control.
But we could arrive at such a situation in two circumstances.
If the Supply Bill (Budget) is not passed there will be no money to run the administration. Hence the Agong, again, reflected wisdom when he advised our politicians to get the Budget through and also to work together for the greater good.
This advice, distinct from His Majesty's prerogative under Article 150, is a persuasion akin to what Walter Bagehot had described in The English Constitution (1867) as the right to be consulted, the right to encourage, and the right to warn.
The political parties have reacted differently to this advice. Umno almost immediately came out to say the party would support the Budget but wants elections to take place once the Covid-19 pandemic was "brought under control."
This was an expression of "adat Melayu" by acceding to the monarch's advice, although with some qualification. Even so, within Umno itself, there were less pliant voices still talking about a no-confidence vote against the government – as is their right in the system of Parliamentary democracy.
Times have gone past when they could be considered "Hang Jebat" to Umno's "Hang Tuah". We are living in a different world now under a different system of government.
PKR appeared to embrace the Agong's advice and wanted to work with the government on the Budget to get it passed. Their main proposal was for the budget to extend the loan moratorium, which had ended on 30th September, by a further six months – which is a popular remit of distressed companies and individuals in an economy severely damaged by lockdown and contraction.
The DAP, careful to show they were heeding the Agong's advice, wanted discussion on the Budget to address particularly what must be done to bring relief to the hardest hit in society.
The Budget is due to be tabled on Friday. It would be a show of good faith for the government to at least have discussions with opposition parties on what can or cannot be done at this stage, or what could be introduced later to accommodate some of their ideas which would show it also wants all sides to work together as the Agong advised. It is good to see this happening.
An adversarial attitude begets opposition hostility. Of course the Prime Minister may take the view, if the Budget was not passed, his initial advice to the Agong to declare a state of emergency could be revived with evidence of Parliament blocking the government from governing.
An emergency therefore is still possible as having an election now is fraught with Covid-19 risk.
However, there is many a slip between cup and lip. In case the Budget was not passed it would also have been demonstrated the Perikatan Nasional government does not enjoy Parliamentary support and the state of emergency is a means to circumvent Parliamentary democracy – which would not be a good mark to carry into the next general election.
Nevertheless unless the bickering opposition can unite around one of their number to become the next Prime Minister, it is likely the Agong will proclaim a state of emergency, probably for a period of time, possibly six months.
His Majesty, once again, will be exercising royal prerogative to protect Parliamentary democracy – and not any of our politicians who would have failed the country.
It would be an outstanding act of leadership if the Prime Minister were to reach across the aisle, engage willing opposition parties, and see what can be done in the immediate term about the Budget.
Even more profoundly the Prime Minister could establish a consultative mechanism to think through Malaysia's immediate and future challenges.
As It does not seem possible to have a government OF national unity, there must be instead a government FOR national unity.
It would be a good idea therefore to establish a Consultative Council, comprising no more than 40 persons, half of whom can be primarily opposition politicians, but the other half non-politicians, and chaired by a non-politician.
Its proceedings should be televised live, so that there will be no political grandstanding and content of discussion would be substantial and well-prepared.
There are so many issues on which it could provide input to the government, in the current Covid-19 crisis and for the restart and revival of the economy.
For instance the Covid-19 vaccine. There are financing and reliance issues. China says, after its own population, it is Asean that will get supply. We must not forget, in our excitement, that China has a population of 1.4 billion, and not note, it has already promised 250 million doses to Indonesia.
It is not clear how much the vaccine would cost, how reliable it would be, what alternative sources we are looking at, and what kind of financing is being put in place.
At the Asean private sector level, we have put together 225 proposals (A Pathway Towards Recovery and Hope for Asean) a couple of which relate to using the bargaining strength of 650 million people for bulk buying of vaccines. I have not seen the Malaysian government position on this. It is busy fighting domestic political fires.
How do we revive very quickly the dying tourism industry? How do we use digitalization to address sustainable development goals by bringing to the people the benefits of public health, good sanitation and clean water supply, greater productivity not just in manufacturing and services but also in agriculture and so, so many other matters of significance.
Instead what we get is political bickering. The Prime Minister has to rise to the occasion as he has done in addressing the Covid-19 pandemic up to now.
We must not forget the Tabligh cluster which spread the virus in February-March this year, as the politicians conspired and manoeuvred. And of course what is happening in Sabah from an election that need not have happened.
Now the state assembly in Sarawak must be dissolved in June, although an early election can be expected in December. The Sarawak government is mindful of what has happened in Sabah and undertakes there will be strict SOPs in the campaign.
Let us hope the comings and goings between Sarawak and the peninsula too are closely monitored.
In his address on the Covid-19 situation last Saturday the Prime Minister alluded to the upcoming Sarawak election and underlined the critical need for SOPs to be observed – while also hinting at the possibility of a state emergency to postpone the election if the Covid-19 situation warranted it.
The second circumstance to force an emergency therefore would occur when the pandemic risks getting totally out of control, whether caused by irresponsible politicians or not.
Coming back to the Umno point about wanting a general election when the pandemic is "under control", it is interesting to note the Director-General of Health has asked for the Health Ministry to be given the power to prevent elections. This is going to be contentious.
That aside, the question of when the pandemic can be considered to be under control should be left to the science and not to the politicians. If it is defined as the situation when the infection rate (R0) is less than 0.5, so be it.
We are back to the need for a polity and a Parliament of responsible politicians who do not cause a situation where Covid-19 overwhelms the people, and brings about the suspension of Parliamentary democracy.
The current R0 is moving down from 1.5, and there is every prospect of achieving 1.0 soon if the present CMCO is stringently observed. The projected number of cases with R0 1.0 is 950. At the end of October the actual number of cases was 799. There is hope for R0 0.5.
Will this potential progress be overturned by politicians who seek confrontation instead of cooperation when the country faces the greatest challenge of our lifetime?